1/9
America's most beautiful lake is in Oregon, and it has an underwater forest
Within Willamette National Forest is Clear Lake, a spring-fed lake as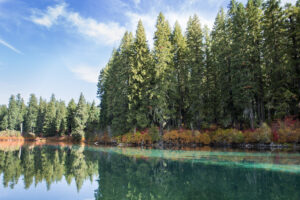 clear as a swimming pool. Volcanic activity left white silt on the ground, making it look like an underwater beach. However, it's really an underwater forest.
Clear Lake was formed around 3,000 years ago through lava flows from Sand Mountain, creating a dam that has filled with water over the years. The forests around the lake were submerged overtime. Remnants of these trees remain in the form of trunks that can extend 120 feet in the water.
Travel + Leisure recently highlighted this special lake in Oregon along with a video where you can see the crystal clear waters for yourself.
"To me, Clear Lake has a very spiritual effect on people… when you get there it just comes across as magical," said Brian Carroll, Linn County Parks and Recreation director, during an interview with Travel + Leisure.
Before you jump in, keep in mind that the clear visibility is the result of snow and ice that melt from the top of the surrounding mountains and filter through the ground to reach the lake. The waters reach an average temperature of around 37 degrees Fahrenheit.
There are still plenty of reasons to visit, with rowboats or kayaks for rent, or you can launch your own for a small fee. There's also the Clear Loop Trail and the Mackenzie River National Recreational Trail that take you through areas of lava flows with volcanic glass and old forests.
Sign up to stay informed on all things Oregon forests